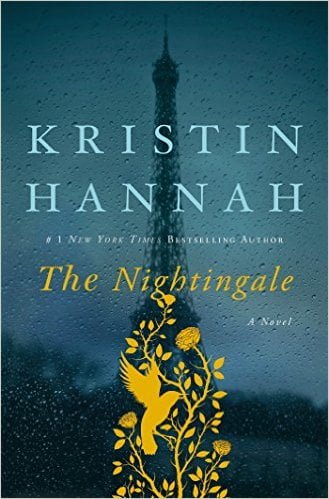 Title: The Nightingale by Kristin Hannah
Published: : February 3rd 2015 by St. Martin's Press
Genres: Historical Fiction
Pages: 440
Format: Ebook
Source: Overdrive
Where to Get: Libraries, Amazon, B&N,
Summary: From Goodreads
Despite their differences, sisters Vianne and Isabelle have always been close. Younger, bolder Isabelle lives in Paris while Vianne is content with life in the French countryside with her husband Antoine and their daughter. But when the Second World War strikes, Antoine is sent off to fight and Vianne finds herself isolated so Isabelle is sent by their father to help her.
As the war progresses, the sisters' relationship and strength are tested. With life changing in unbelievably horrific ways, Vianne and Isabelle will find themselves facing frightening situations and responding in ways they never thought possible as bravery and resistance take different forms in each of their actions.
---
My Review
I would not have thought Kristin Hannah wrote this novel because she mostly writes romance novels. She is a big name in that genre and every time one of her books is published there is a long wait list at the library. I lead a book club, Morning Book Club, at the library and The Nightingale was our November pick. The members were so excited to read this book. Also, many of the ladies are older and had parents who lived and/or fought during the World War II.  Also, I killed two birds with one stone reading it for book club and completely a task for the Read Harder Challenge by listening to the audio-book which won an Audie Award.
I enjoyed this book immensely! I love historical fiction books, and I will put this in my all-time favorite category. The book starts with an elderly woman reminiscing about her life during occupied WWII France. Which catapults the reader into the lives of Isabelle and Vianne; two sisters, several years apart in age, experiencing and surviving the war differently.
The first sister we meet is Isabelle, who is known for her beauty, a rebellious, caution to the wind teenager. Isabelle has ran away from every boarding school she has been to. However, when the war breaks out Isabelle's, distant father sends her to live in the country with her sister, Vianne. We follow Isabelle on her journey to her sister; the reader immediately feels the perils of war. The Germans are dropping bombs on the towns/villages, French soldiers are running away from the front, and Isabelle meets a man named, Gaetan, a communist, but wants to fight against the Germans, and falls in love. These actions spur Isabelle to fight for France.
Vianne, also beautiful, a mother, and wife is waiting for her sister Isabelle. Vianne's husband, Antoine is fighting at the front. Finally, Isabelle reaches their ancestral home. Now, the story is fully under way with the two sisters together. Soon after, the Nazis come to occupy the small country town, commanding everyone in town to turn over their radios, food, and even homes. A German officer, Beck, billets at the home and Isabelle is opposed to the very idea. She treats Beck very discourteously the whole time she is there.  
After the Germans took over the town, Isabelle becomes rebellious and is noticed by other freedom fighters in town and she soon goes on a journey that changes her life and everyone she meets. Isabelle has to grow up face during this time and starts to learn quickly her actions have dire consequences. Vianne is placed in very tough situations while having a German soldier stay in her home. Her loyalty is tested by the Germans, by having to make a list of all the Jews, Jehovah Witnesses, Free Masons, homosexuals in town. Even if that means writing her best friend's name on the list who is Jewish. These two women have to sacrifice  and endure a lot in the name of love during the war. It is heart wrenching, indescribable pain, and harrowing all at the same time.
Reading this book makes ask questions the whole time, "What would I be willing to do to survive," "What is the ideal and what is reality?" Do I have answers, I just don't know. My words would probably be different from my actions during a time like this.
The Nightingale is phenomenal and I haven't read a book about WWII occupation in such detail. Being occupied is horrific every one starving, and living in fear of saying and doing the wrong thing. This book put a lot things in perspective about WWII. I am glad more WWII stories are being told, even if it is fiction, because many of the WWII veterans have died. Kristin Hannah knocked this book out the park!!
Happy Reading!
---
My Rating