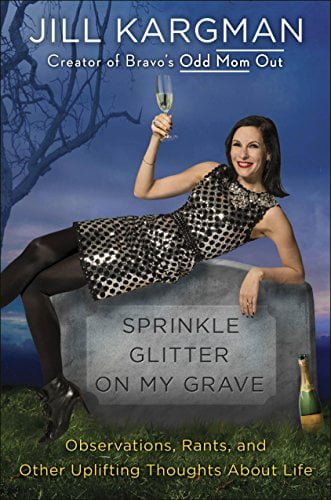 Sprinkle Glitter on My Grave by Jill Kargman
Published: September 6, 2016 by Ballantine Books
Genres: Memoir, Essays, Humor
Pages: 224
Format: Ebook
Source: Advanced Reader Copy
Where to Get: Libraries, Amazon, B&N,
Summary: From Goodreads
Imagine if New York A-lister Nora Ephron had a love child with America's most-loved comedic scribe, David Sedaris. Their spawn would be Jill Kargman, the bestselling novelist turned satirist and star of Bravo's break-out scripted comedy, Odd Mom Out. Now Kargman shares her razor-sharp wit and backhanded wisdom in a deeply observed and outrageously funny collection of musings, lists, essays, and outrages. From the life-affirming outlook she got from her death-obsessed family (including the antithesis to her Goth aesthetic, ray of sunshine sister-in-law Drew Barrymore) to the appreciation for land (and limbs) she got from swimming with sharks off the South African coast, to the adrenaline-pumping experience that is a Gay Pride parade,Sprinkle Glitter on My Grave is a book about life, death, and everything that happens in between, that will both entertain and inspire.
---
My Review
The Bravo channel is one of my favorite channels ever and I love that they are doing scripted TV series now instead of only reality shows. Odd Mom Out is amazing, witty, and satirical. So when I found out Jill Kargman the star had written a book. (Apparently, she has written many books) it was a must read for me.
The book is similar to Odd Mom Out, casting a satirical eye on the antics of the wealthy echelon of New York City. In the book Jill talks about her family's fondness of things that are a bit morbid. They talk about death a lot and conversations about cemetery plots are commonplace in her family. I love the comparison she makes of her family to the Munsters/Addams Family especially, having their version of bright sunny blonde to cast light on their dreary world.
But the book also explores other things that drive Jill crazy. As Jill relays her observations you think she is born to be the antithesis of her are super wealthy counterparts. She likes rock bands, drawn to black clothing. Yet, she is not completely removed from having rich people problems because she comes from a wealthy family.
I love that the reader gets an insider's point of view into the upper class society. For example, You have to have connections to get into cemeteries in Connecticut, Supermodels worried about their husbands not being attracted to them, or the need for adventure always involves near fatal acts.
This book will make you laugh out loud and say "they really care about that," and "oh, to have rich people problems." I was quite surprised that she uses slang for example"Totes Mcgotes", BTdubs, insuffs, awks, throughout the book it seems these phrases would be the epitome of what she is trying to stay away from.
I would recommend this book to anyone who just wants to read humorous books and are fans of her show, but that is it. It kind of felt like she was trying too hard.
Happy Reading!
---
My Rating