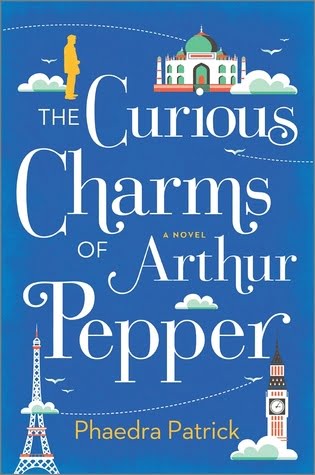 Title: The Curious Charms of Arthur Pepper
Author: Phaedra Patrick
Genres: Contemporary Fiction
Pages: 331
Publisher: MIRA
Review Copy: Libary/Overdrive eBook & eAudiobook
Where to Get: Library, Amazon, Barnes & Noble
Summary from Goodreads:
Sixty-nine-year-old Arthur Pepper lives a simple life. He gets out of bed at precisely 7:30 a.m., just as he did when his wife, Miriam, was alive. He dresses in the same gray slacks and mustard sweater vest, waters his fern, Frederica, and heads out to his garden.

But on the one-year anniversary of Miriam's death, something changes. Sorting through Miriam's possessions, Arthur finds an exquisite gold charm bracelet he's never seen before. What follows is a surprising and unforgettable odyssey that takes Arthur from London to Paris and as far as India in an epic quest to find out the truth about his wife's secret life before they met–a journey that leads him to find hope, healing and self-discovery in the most unexpected places.
---
My Review
The Curious Charms of Arthur Pepper is a fascinating novel written by Phaedra Patrick. I am reading this book for our June book club pick after one book, "A Man Called Ove" we have been trying to read, for 2 years, at the library has been so popular I can't get any copies. This was a nice readalike also set in contemporary times, male protagonist undergoing self-discovery.
Exactly, a year after the death of his beloved wife, Miriam, 69-year-old Arthur Pepper is cleaning out Miriam's closet when he finds an expensive charm bracelet he didn't know she owned, and each charm seems to represent a part of Miriam's past life. Arthur was completely taken and wanted to know every story behind each charm. What follows is a series of adventures that help Arthur get out of his grief stricken blues. Along the way he also works on reacquainting himself with his somewhat estranged children and realizes that discovering that living a non-adventurous and simple life doesn't mean it hasn't been well lived.
I adored the book, it held my attention with the heartwarming love story of Arthur and Miriam. I loved how going on the adventure took him abroad. Also, got him out of bed and out of his widower's routine. He met many intriguing characters along the way which helped enrich the story! It is such as sweet book and an easy read!
It's a highly entertaining read. I was laughing so many times throughout the book. Not only was Arthur discovering his wife's past life but he was also discovering himself. I would definitely recommend this book, if anyone is looking for a lighthearted and easy read. I would even recommend listening to it on audio-book because that really made the book come to life for me.