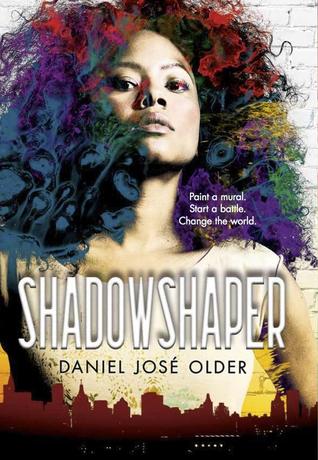 Title: Shadowshaper
Author: Daniel Jose Older
Genres: Urban Fantasy
Pages: 297
Publisher: Arthur A. Levine Books
Review Copy: Libary/Overdrive eBook & eAudiobook
Where to Get: Library, Amazon, Barnes & Noble
Summary from Goodreads:
Sierra Santiago was looking forward to a fun summer of making art, hanging out with her friends, and skating around Brooklyn. But then a weird zombie guy crashes the first party of the season. Sierra's near-comatose abuelo begins to say "No importa" over and over. And when the graffiti murals in Bed-Stuy start to weep…. Well, something stranger than the usual New York mayhem is going on. Sierra soon discovers a supernatural order called the Shadowshapers, who connect with spirits via paintings, music, and stories. Her grandfather once shared the order's secrets with an anthropologist, Dr. Jonathan Wick, who turned the Caribbean magic to his own foul ends. Now Wick wants to become the ultimate Shadowshaper by killing all the others, one by one. With the help of her friends and the hot graffiti artist Robbie, Sierra must dodge Wick's supernatural creations, harness her own Shadowshaping abilities, and save her family's past, present, and future.
---
My Review
Shadowshaper is a powerful novel by Daniel Jose Older. The novel is a Young Adult, urban fantasy; set in the Bed-Stuy of Brooklyn, New York. Randomly, a former co-worker suggested the book to me on Goodreads and to be completely honest, I judged the book by the cover (Such a NO-NO). This book has such a beautiful cover. Just look at the at cover!! You can't say no to that. I'm glad I read the book because fantasy is a new genre that I am exploring and my only foray into fantasy has been Song of Fire & Ice series by George R.R. Martin.
The book tells the story of Sierra Santiago, an Afro-Latina, who is immersed into a spiritual world and battle; which she has to navigate very quickly. Sierra has been noticing that the graffiti murals in her neighborhood are fading and crying. Soon after her abuelo (grandfather), who has suffered a stroke and doesn't speak starts talking and saying the same phrase over and over again; Lo Siento, Lo Siento (I'm Sorry, I'm Sorry). Sierra's abuelo tells her she will need Robbie's help to finish her mural. Soon Robbie tells her about secret organization called, Shadowshapers. Shadowshapers are conduit to connect with spirits mostly through paintings. In very short time, Sierra will have to get battle ready to fight an evil Shadowshaper who is using spirits and magic to their own dark means. Not only will she have to fight an evil Shadowshaper; she will have to figure out her family history being kept hidden from her because of the rising conflicts between members of her family.
What I liked best about this novel was the folklore that the book is rooted in. The spiritual magic which is an aspect of Afro-American & Afro-Caribbean culture of still be able to connect with your ancestors' spirits and the spirit world. It reminded me a lot of Santeria and Dia los Muertos. I loved there was a very diverse cast in the book. There were different ethnicities, nationalities, and sexualities. Older did a great job creating well-rounded main and supportive characters. Many of the everyday teenage things the characters went through reminded me of my teenage years. While saying this I glad, Older did not focus on a lot of teenage angst that many YA authors love to do. He stayed away from that and focused on the problem at hand, Sierra find her identity as Shadowshaper and Afro-Latino, and defeating an evil shadowshaper. It was fascinating how Older so deftly illustrated color-ism many brown minorities face within families and society. How being a darker hue can effect the people treat you, and how you feel about yourself. When Sierra finally stood up her Aunt; I was screaming YESSSS! inside. I know that feeling so well when someone says your skin is too dark and/or your hair is too "kinky."I really enjoyed Sierra's strongly asserted voice and the dynamic characters that I came to know in this book.
It's well-worthing reading, Shadowshaper, because it is not only about magic. It also discusses racism, sexism, gentrification, family ties, and appropriation. I truly enjoyed reading this book! If you are looking to get into fantasy definitely start with this book. I will also suggest listening to the audio-book because it is narrated by the beautiful and talented Anika Noni Rose!
This is definitely a must read!