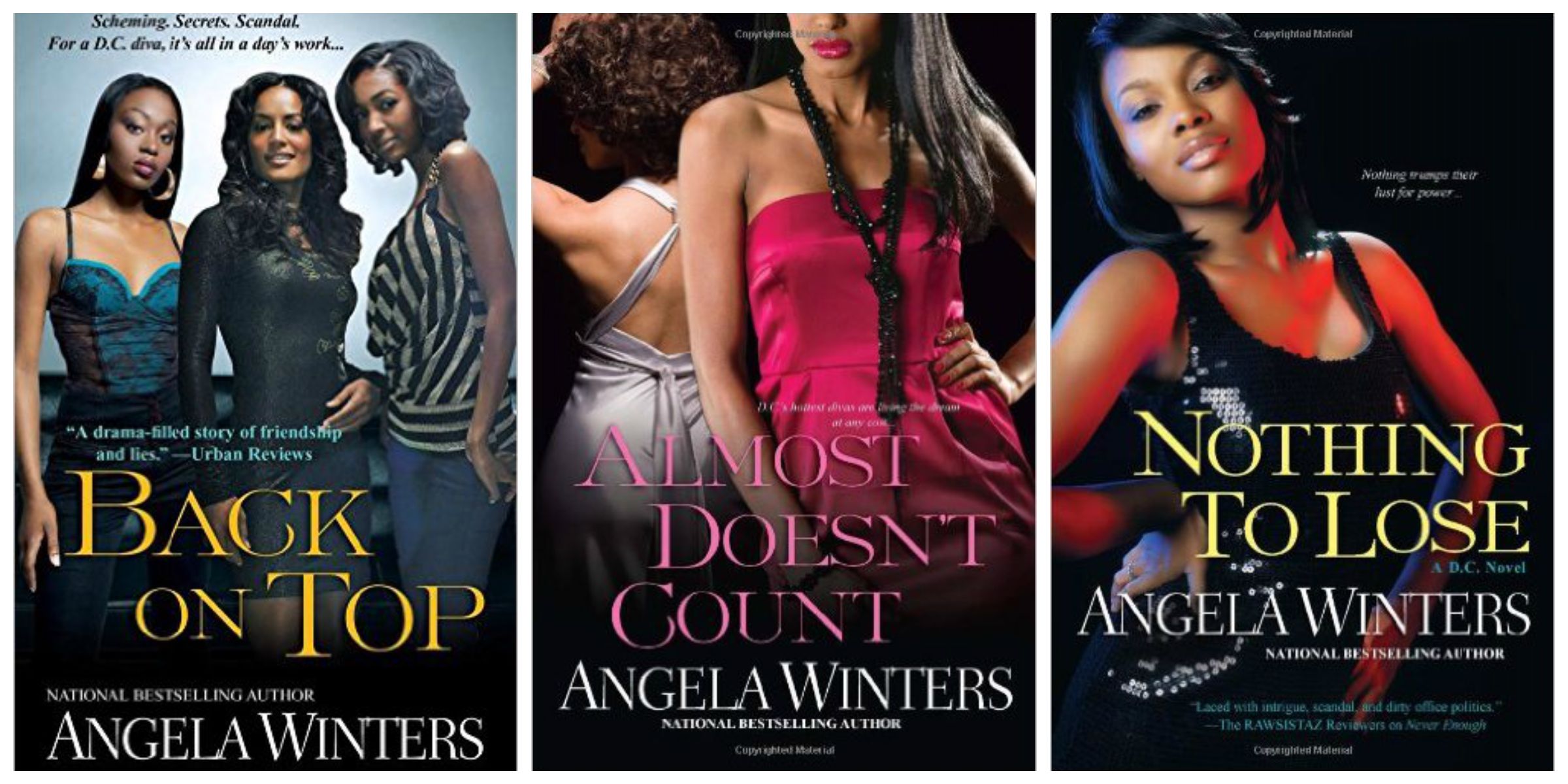 I'm reading Angela Winter's DC series. I read 3 out of the 4 books in the series in 4 weeks. So you can tell how much I enjoyed the books. The first book Back on Top is where you are introduces to the 3 main characters of the series, Sherise, Billie, and Erica. All three ladies grew up together in a rough neighborhood of DC. Sherise is a go-getter, do any thing to advance in the DC social scene. At times she is willing to compromise herself and other people. Billie is fight for the little guy lawyer, but do to a messy divorce she has to go corporate to make end's meat. Erica is personal assistant for pentagon higher ups. She is dating a man named, Terrell who her best friends don't think is worthy of her.
In the first book "Back On Top" we are introduced to this trio of best friends and each woman is facing a dilemma. Sherise is a social climber in DC. She is willing to do anything to make it to the top and does not care about collateral damage. Eventually, she finds herself in an affair with an Pentagon official that could turn omnious if anyone found out. Erica works at the Pentagon as personal assistant to the officials. She is reassigned to higher up official named Jonah. Jonah has a strange interest in her that proves to be more fatherly than sexual. Billie is fresh from her divorce with Porter and trying to make it in big law. However, Porter will not let her forget how much power he exudes over her life (personally & professionally). By the end of the book the trio's friendship is rocked but not frayed.
In the second book, "Almost Doesn't Count" the trio again face problems out of their control. Sherise resigns from her job to focus on her family, after having an affair with Jonah (Justin doesn't know but suspects). Sherise family is rocked when a woman targets her husband and questions the paternity of her child with Justin. Erica finds out that Jonah is her father and comes to grips with that. However, she also has problems going on at home. Her brother, Nate is not acting like himself and it possible that Terrell might be the source of the problem. Billie, is finally make her way at the firm and handed her first pro bono case which she is super excited. Her client proves to be more enticing than the case, but he might still be in streets than he claims to be. The girls rally together to help each other out in their different situations. This time it's not their friendships that need repair it's their personal lives.
In the third book "Nothing to Lose" which for some reason is not counted as the third book. The three ladies again face problems from their past. Sherise is now working on the campaign of potential presidential candiate. When she finds out that Jonah has been to select to be vice-president candiate for the incumbent president. She does all she can do to make sure their affair never comes to light. All this while pregnant with her second child and protecting Justin from a disgruntle woman his lobbying firm unintentionally put in harm's way. Erica is trying to reconcile with Jonah so she goes to work on his campaign for the next presidential bid. She gets close to one of the workers named Alex. Jonah does not like that Erica is getting close to Alex. But why? Billie has moved to a new firm after having a relationship with her client. At the new firm she is head of a big case that involves working with ex-husband, Porter. Billie has to face the reality she hasn't resolved all her feelings since the divorce. This in return effects her new relationship with Michael. In the end all the ladies find the peace and answers they need. Sherise and Justin are in a good place. Billie and Michael are no longer haunted by the memories and feelings of her ex-husband. Erica finds out why Jonah did not want her and Alex becoming close. Can you say papa was a rolling stone.
I enjoyed reading the series. Angela Winters does a great job of sucking you into the book. You become invested in the characters and also irriated. I was especially annoyed with Sherise for all three books. It seems she never learned her lesson. Hopefully in the fourth book, Power, Seduction, and Scandal, which is being dubbed the third book in the series she will. It's a great read if you love contemporary urban fiction.
Happy Reading!