I have been reading the Kinsey Millhone series out of curiosity. It is a popular series that many patrons at the library check out all the time. I wanted to know what all the fuss was about. And now I know. The series is very enjoyable and my first female detective series. I have read the books so quickly that I want to do 9 mini reviews. I will be reviewing A-I. The Kinsey Millhone series is an alphabet mystery series. Sue Grafton, the author, titles each book with a letter of the alphabet.
Let's Start: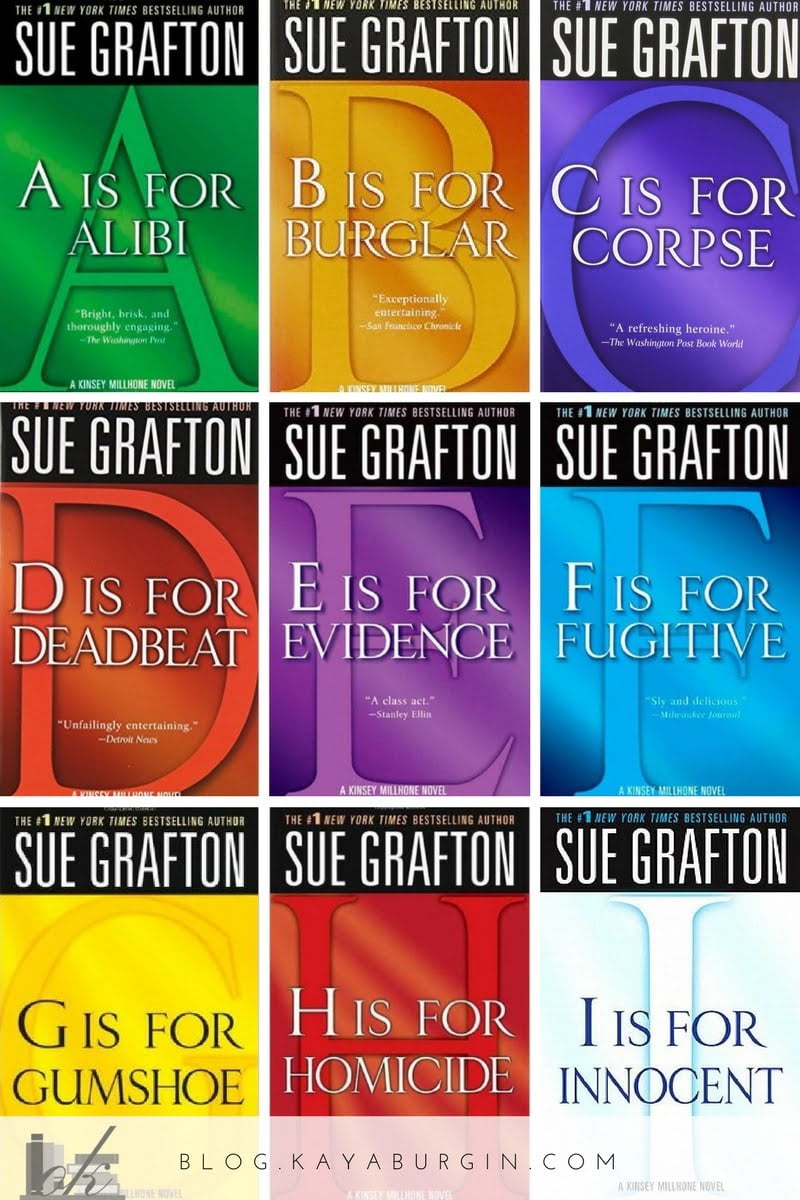 This is the first book in the series. The reader is introduced to, Kinsey Millhone, a private investigator.  As she progresses through her cases she involves the reader directly with all her thoughts, everything she sees, reads, and hears. The reader gets a front-row seat of her interviews with suspects and witnesses. In the first book, Kinsey investigates an 8 year old murder for Nikki Fife, who was wrongly convicted of killing her husband, Lawrence Fife. Throughout the book there are twist and turns. This is a great introduction to Kinsey Millhone.
This is the second book in the series and probably my favorite so far. I have only read the first 9 books. In the book, Kinsey is charged to locate Beverly Danziger's sister Elaine Boldt. Which at first glance seems like an easy task but proves to be very difficult. Elaine's disappearance might be tied to a murder 8 months earlier and other people start to turn up dead. A story that has you captivated from beginning to end. There is identity theft, excrement on walls, drug dealer, a May-December relationship and it is a bi-coastal story taking place in California and Florida.
This installment is a little sad because the person hiring Kinsey is not evening dead when he asks her to investigate his murder. Bobby Callahan, has already had a near death experience by being run-off the road which killed his best friend and now, Bobby has brain damaged. When Bobby is actually killed, Kinsey investigates his murder leaving no stone unturned.
Kinsey is in pursuit of deadbeat, John Dagget,  who has given her a bad check, in payment for Kinsey to deliver a 25,000 check to a kid. However, he winds up dead, with multiple people with motives to kill him. From a drunk driving incident that killed a family and one lone survivor, stealing from gangsters in prison, and having multiple wives. This book has more twist than a roller-coaster. The ending will leave you speechless, but wanting more.
Kinsey is falsely accused of being on the take; when money is mysteriously deposited into her bank account, as she investigates a possible arson case. This installment is very explosive, pun intended. We finally get to meet one of Kinsey's ex-husbands, Daniel. He is extremely handsome and deceitful. During the book Kinsey has to clear her name and come to terms with the reappearance of Daniel.
Kinsey is hired to investigate a 17 year old murder case down in Floral Beach, California. A teen, Jean Timberlake was allegedly killed by her boyfriend, Bailey Fowler. He was convicted and imprisoned but escaped. Bailey's father believing his innocence hires Kinsey to find the real murderer. However, Kinsey finds a lot more than just the murderer. It seems the whole town has secrets that none of them want to come to light. To bad for them, Kinsey is on the case.
Kinsey is hired by a frail, sickly woman to check on her mother because she has not heard from her. Sounds simple enough, and it is, at first. The old woman is found, placed in a facility, but disappears again, only this time she's not so lucky. In the meantime, Kinsey is informed she could be the target of an assassin she helped put away, requiring her to have a bodyguard, one she becomes quite close to before all is said and done. It's one of  my least favorites in the series. However, it still progresses the overall story arch of Kinsey Millhone.
Normally, I really enjoy Sue Grafton's alphabet mystery books and finish them up rather quickly. This one felt like it took forever. I understood the insurance fraud storyline, and the scam was one used a lot in the 1980's, so it's believable. The title did not go with the storyline at all; the only homicide was at the beginning and not mentioned again. Also, the characters and the dialogue were odd, and Kinsey did not behave in the way she ordinarily does while being undercover. Definitely, not one of my favorites.
Kinsey is renting an office from a local lawyer and he needs her help. He's trying a wrongful death civil case and his go-to PI has dropped dead of a heart attack. He asks Kinsey to pick up where the other PI has left-off. It's a six year old murder case where the defendant wasn't convicted but now the victim's ex-husband is taking him to civil court. As Kinsey goes through the work of the other PI, she finds so many problems with his work that she almost has to start from scratch. There are a lot of people to investigate and a lot of trails to follow. This is the most complex plot of the Kinsey Millhone series yet. There are a lot of characters and keeping them straight was hard at times. Again, I love seeing just how much dogged footwork and fact-checking is involved in the PI business. Reading this was very timely in the novel Grafton talks about the pay gap between Kinsey and her male PI counterpart. Very same issue we are facing today.
Overall:
I really enjoy the Kinsey Millhone series so far! I just gobble the books up in a matter of days. The things I like about this series is representation of women, especially Kinsey. Kinsey, is strong, sexual, savvy, and smart (haha…alliteration didn't notice until now). The cast of supporting characters are amazing. The  series has built a world that any mystery reader would enjoy immensely. The one thing I have noticed, Kinsey always gets hurt in some way. However, she still dishes out her own punishments.
I would recommend this series to anyone who likes mystery or wanting to start a mystery series.